How to get your own UPC number: The missing link to creating an Amazon product page.
A few weeks ago I posted an article titled How to Add A Book to Amazon's Catalog. In it, I explain how to create a product page for an item that isn't already on Amazon. Since I stopped passing on items I found that weren't already in Amazon's catalog, and started creating pages for them, it's made me a nice amount of money that I otherwise would have missed.
There was one crucial detail I left out: How to buy your own barcode.
When you're creating your product page, at the bottom of the "Vital Info" tab, there is a field marked "ISBN Number or… UPC:"
Generally, books published in 1970 or after will have ISBNs. Most of the time. So you will have no trouble here. However, a lot of books won't. These include:
Many self-published books.
Many micro-press books.
Many mailorder-only books.
There are many exceptions for music and movies as well.
In these instances, we need a UPC number. If you think barcodes are the domain of big business only, you're totally wrong. They're easy to get. And they're cheap.
 Here's how to buy UPC numbers
Go to eBay.
Search for "UPC barcodes."
That's it.
No really. That's it. At the time of this writing, the first result that comes up offers 1,000 UPC numbers for $14.99. That's an insane bargain.
I bought a list of 100 some time ago for $9.99, and I'm still going through them.
Here's what you get when you purchase UPC numbers / barcodes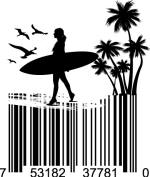 (No, you don't get this cool artwork. I stole this from Google).
Generally, you'll get an email from the seller upon purchase. Depending on the seller, there should be several attachments. Every time I've purchased UPC numbers, I've received the following:
Some sort of "certificate of authenticity"
Barcode artwork
Text file with the numbers
A spreadsheet file with the same
So there you go. Instant delivery, and you can have a product page up in 5 minutes.
I wish it was more complicated so I would have more material to fill this post with, but that's it.
One word of caution
I have never had any trouble with cheap UPC numbers purchased off eBay. However, many have. So be aware of a few things:
You might receive bogus numbers.
You might receive real numbers that will be issued  to someone else and cause you problems.
At 1.5 cents each, why does it matter? Because if you set up a product page with a bogus or redundant UPC number, Amazon may take your page down. And then you're out of business (for that item at least). I have no idea what your recourse is at that point, and if Amazon's allows you to just set up another page with a new, legit UPC.
This has never been a huge concern for me because in most instances, I set up a page for an item I only plan to sell once. So its low-risk. For those who set up a page with plans to sell dozens, hundreds, or thousands of an item, you might want to purchase from a company with a proven track records.
One trusted company is Bar Codes Talk.
Higher prices, but you can pretty much guarantee you're getting a solid product.